iCar Asia's quarterly net operating cash outflow reaches a 5 year record low
July 12th, 2019
Strong cash receipts from customers for Q2 2019 of A$3.73 million
Net operating cashflows improved by 48% vs the same period last year
Cash balance significantly improved to A$12.9m due to receipt of A$7.67m from the exercising of options in June 2019
Malaysia and Thailand continue to record quarterly positive EBITDA and net cashflow in Q2 2019
Indonesia continues making strong progress, halving its quarterly EBITDA loss year on year
11 July 2019 – iCar Asia Limited ('iCar Asia', the 'Group' or the 'Company'), ASEAN's number 1 network of digital automotive marketplaces, has published its Appendix 4C for the second quarter of 2019.
Strong cash receipts for Q2 2019 of A$3.73 million
The Company reported that cash collections for the second quarter were A$3.73 million, up A$0.52m or 16% versus Q2 2018. The growth was driven by strong cash collections in all business units including Used Car and New Car across all 3 countries, delivered during a quarter in which elections were held in both Thailand and Indonesia.
As communicated in previous announcements, the receipts above do not include net receipts from the auction business, which are separately disclosed in quarterly cash results.
Net quarterly operating cash outflow improved to a 5 year record low
Strong cash receipts growth and lower expenditures led to a significant decrease in net operating cash outflow by 48% year on year to A$1.77 million. This is the fourth consecutive quarter of strong net cash outflow improvements and is a result of iCar Asia's operations in Malaysia and Thailand now consistently being positive cash contributors, Indonesia halving its net cash outflow and corporate costs remaining stable versus Q2 2018. These trends are expected to continue through 2019 resulting in a consistent reduction of net operating cash outflow as the Company progresses to EBITDA breakeven by the end of 2019.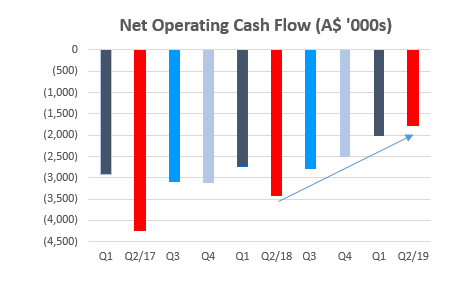 Receipt of A$7.67m from the exercising of options in June 2019
The Company closed Q2 with A$12.9m in cash and cash equivalents after receiving A$7.67m from the exercise of options issued under the terms detailed in 2017 Rights Issue Prospectus, dated 15 November 2017. The Company also has access to additional funds in the form of a A$5 million debt facility which remains undrawn.
iCar Asia's two largest revenue markets, Malaysia and Thailand, continued to be EBITDA and cashflow positive in Q2 2019 in line with iCar Asia's original guidance, and the Group remains on track to reach EBITDA breakeven by the end of 2019.
iCar Asia continues to progress in all 3 countries
Malaysia had its third consecutive quarter of positive EBITDA and cashflow in Q2 2019. June 2019 audience saw an increase of 7% versus June 2018. The strategy to focus on listing quality where low quality or sold listings are removed from the marketplace resulted in a 16% decrease year on year in listings for June 2019, though total leads generated remained steady. Number of paid accounts was maintained at the same level versus Q1 2019, indicating minimum churn from the price increases introduced in April 2019.
Thailand had its second consecutive quarter of positive EBITDA and cashflow in Q2 2019. Account volumes remained at the same levels as Q4 2018 while listings showed an increase of 18% year on year in June 2019. Audience and Leads followed the same trends as seen in Q1 2019, and decreased (37% and 23% respectively), however these were both subject to the one-off impact of the general election in late March/early April and the period leading up to the coronation of the King of Thailand in early May.
Indonesia has further progressed its monetization in the used car segment, helping to decrease its EBITDA loss by half. Audience and leads marginally increased by 1% and 3% respectively year on year despite being impacted by the general election in mid-April and subsequent brief period of instability following the official announcement of election results in early May and also the Eid celebrations in June. Listings decreased 6% year on year in line with expectations as free listings continue to be restricted.
The CEO of iCar Asia Limited, Mr. Hamish Stone commented: "We have continued our positive start to 2019 into the second quarter where we have witnessed strong progress in all 3 countries. Malaysia and Thailand were both once again EBITDA and cashflow positive in Q2. Indonesia continued its path in halving its EBITDA losses and with corporate costs remaining flat, we remain on track to achieve EBITDA breakeven by end of 2019. "
For more information please contact:
Hamish Stone
Chief Executive Officer
iCar Asia Ltd
Mobile: +6017 473 3778
Email: hamish.stone@icarasia.com
Yee Chin Beng
Chief Financial Officer
iCar Asia Ltd
Mobile: +6012 655 8333
Email: chinbeng.yee@icarasia.com
Listed on the Australia Securities Exchange, iCar Asia (ASX: ICQ) owns and operates ASEAN's No.1 network of automotive portals.
Headquartered in Kuala Lumpur, Malaysia, the company is focused on developing and operating leading automotive portals in Malaysia, Indonesia and Thailand. iCar Asia is continuously working to capitalise on its market-leading positions, with its online properties currently reaching approximately 12million car buyers and sellers in the region every month.
iCar Asia Network of websites: