iCar Asia finishes the year on a high with 27% revenue growth in December
February 2nd, 2021
Recovery continues with December 2020 unaudited revenue bouncing back to 27% year on year growth
Malaysia and Thailand EBITDA and cashflow positive for full year 2020
Q4 2020 Net Operating Cash Outflow improved 34% year on year to A$1.2m, including A$0.2m in deal costs
Key operational metrics remained strong throughout Q4 2020
2021 outlook looks increasingly positive, with iCar Asia still leading the ASEAN region on its recovery path
Discussions of Autohome's Acquisition Proposal are ongoing
29 January 2021 – iCar Asia Limited ('iCar Asia', the 'Group' or the 'Company'), ASEAN's number 1 network of digital automotive marketplaces, has published its Appendix 4C for the fourth quarter of 2020.
Recovery continuing with added momentum to finish the year on a high
December 2020 showed a peak in monthly revenue for the year with unaudited revenue reaching A$1.8m for the month, up 27% versus December 2019. Unaudited revenue for Q4 2020 showed a 56% increase versus Q2 2020, and a 17% increase versus Q3 2020, as the recovery in the Company's 3 markets accelerated towards the end of the year. Through all of these operational challenges, both Malaysia and Thailand were EBITDA positive for not only Q4 2020, but also the whole of 2020.
Net Operating Cashflow controlled amidst challenging COVID19 environment.
Total Net Operating Cash Outflow for the fourth quarter was A$1.2m, improving 34% compared to Q4 2019 and included payment of deal-related cost of A$0.2m. This was achieved as a result of the ongoing successful implementation of growth initiatives for cash receipts and cost reduction programs across the Group and was the third lowest quarterly net operating cash outflow ever for the Company.
Cash receipts in Q4 2020 improved by 5% versus Q3 2020 to $3.6m, continuing its increasing trend from Q2 2020. This continued to be impacted by the ongoing effects of COVID19 as all 3 countries continue to recover at varying rates as business restrictions are being relaxed and consumer sentiment improves aided by various government stimulus initiatives.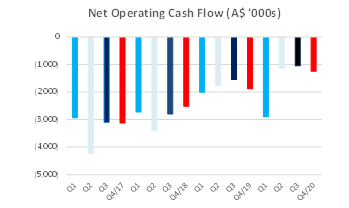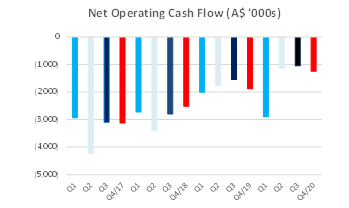 The Company closed the quarter with A$2.2m in cash and cash equivalents, including A$2m of funds draw down from a debt facility. A further A$1m draw down is planned for January 2021, with the funds being used as and when needed to meet the operational funding and working capital needs of iCar Asia. The Company has access to an additional A$2.0m in undrawn funds from this debt facility.
To provide further flexibility for iCar Asia's funding requirements during its ongoing period of engagement with Autohome, The Company has agreed a further debt facility of A$10.0m with its major shareholder, Catcha Group. This debt facility will have an interest rate of 12% per annum on any drawn down amount, a loan expiry date of 30 June 2023, and no origination fees or
warranties. The facility allows the Company to begin drawing down funds from 1 April 2021 should the funds be required. Prior to this date a survey of other debt facility providers in the market will be carried out. Should a more cost-effective facility or more favourable financing be found, this will be put in place by the Company with no penalties for the termination of the Catcha Group facility.
Operational metrics remain strong to finish 2020.
Dealer metrics remained steady throughout Q4 2020, with Account volumes continuing to grow towards the end of the year. Audience and Leads remained robust, with unpaid and mobile app traffic and leads continue to improve and contribute over 90% of the total volumes of these metrics in each market.
The Managing Director and CEO of iCar Asia Limited, Mr. Hamish Stone commented:
"Despite the changing conditions in each market, the Company continued to see a steady recovery across all three countries in Q4, with a strong acceleration in December to finish the year on a high. Whilst iCar Asia continues to monitor and adapt to the COVID19 situation, The Company remains optimistic about the long term prospect of the automotive industry despite these short term disruptions to the business. As iCar Asia continues to lead the ASEAN market, the Company is confident it can be a strong partner to the automotive industry's recovery and growth. "
Update on Autohome Proposal
Discussion of the non-binding proposal from Autohome Inc. to acquire 100% of the shares of iCar Asia for A$0.50 cash per share by way of a scheme of arrangement are ongoing. Autohome is currently undergoing its internal approvals for the Proposal. The Proposal also remains subject to a number of conditions including iCar Asia shareholder and Court approval. iCar Asia will continue to keep the market informed of any material developments in accordance with its continuous disclosure obligations. There is no certainty that the Proposal will result in a transaction being agreed and put forward to iCar Asia shareholders for consideration and shareholders do not need to take any action in relation to the Proposal at this time.
This announcement has been approved by the Board of iCar Asia Limited.
For more information please contact:
Hamish Stone
Chief Executive Officer
iCar Asia Ltd
Mobile: +6017 473 3778
Email: hamish.stone@icarasia.com
Yee Chin Beng
Chief Financial Officer
iCar Asia Ltd
Mobile: +6012 655 8333
Email: chinbeng.yee@icarasia.com
Listed on the Australia Securities Exchange, iCar Asia (ASX: ICQ) owns and operates ASEAN's No.1 network of automotive portals.
Headquartered in Kuala Lumpur, Malaysia, the company is focused on developing and operating leading automotive portals in Malaysia, Indonesia and Thailand. iCar Asia is continuously working to capitalise on its market-leading positions, with its online properties currently reaching approximately 12million car buyers and sellers in the region every month.
iCar Asia Network of websites: