iCar Asia Q2 2021 cash receipts grew by 43%, despite Covid-19
July 29th, 2021
20 July 2021 – iCar Asia Limited ('iCar Asia', the 'Group' or the 'Company'), ASEAN's number 1 network of digital automotive marketplaces, has published its Appendix 4C for the second quarter of 2021.

Cash Receipt improved despite challenges of Covid-19.
Cash Receipts in Q2 2021 grew by 43% year on year to reach A$4.28m. This is more than double the growth rates achieved Q1 2021, which saw cash receipts growing by 19% year on year and was driven by the recovery in the core business and higher car trading receipts. With this result, the Group has returned to above pre-Covid-19 levels and was achieved despite the Group's operation in Malaysia and Indonesia being impacted by Covid-19 related business and movement restrictions throughout June 2021.
Net Operating Cash Outflow for the second quarter of 2021 was A$1.42m, improving 13% compared to Q1 2021. After adjusting for one-off factors from Q2 2020 (voluntary salary cuts of A$0.58m) and in Q2 2021 tax payments of A$0.18m, net operating cash outflow for Q2 2021 improved by 28% year on year. Ongoing successful implementation of cash collection/payment initiatives and cost reduction programs across the Group since Q2 2020 helped to deliver this result.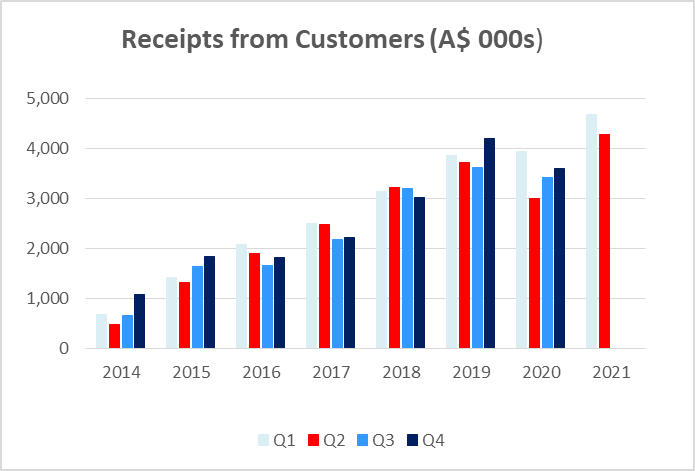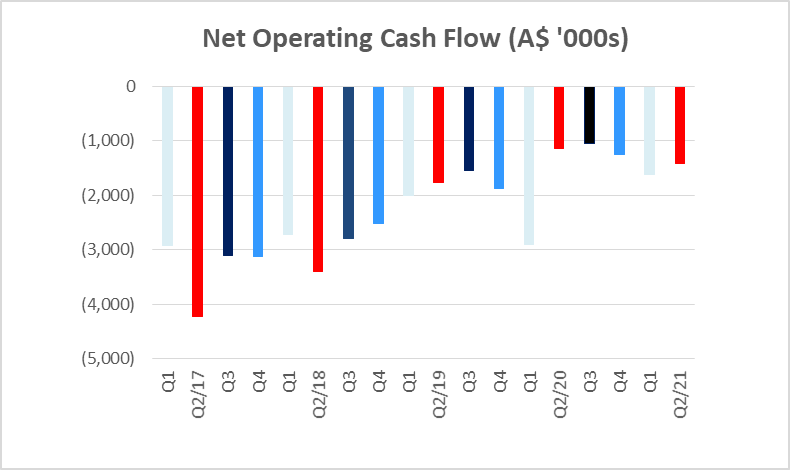 The Company closed the quarter with A$1.5m in cash and cash equivalents including A$1.0m (cumulative drawdown A$5m) drawn down from the Group's debt facility in Q2 2021 in order to fund the operation and growth of its businesses. The Company also has access to an additional debt facility of A$10m.
Q2 2021 unaudited revenue grew at 75% year on year, FX adjusted
Unaudited revenue for Q2 2021 grew at 75% year on year FX adjusted, driven by the recovery in the Group's core business and the car trading business. Malaysia and Thailand remained EBITDA and cashflow positive for Q2 2021 while Indonesia EBITDA loss reduced by 35% year on year.
Operational metrics continue to remain steady
Key operating metrics across the group continued to remain steady with audience staying at the same level and paid accounts increased by 2% versus Q2 2020. Unpaid audience now constitutes 79% of total audience, signifying strong brand presence and improved SEO in all the operating countries.
The Managing Director and CEO of iCar Asia Limited, Mr. Hamish Stone commented:
"The Company has seen the recovery momentum that started in late 2020 continue into the first half of 2021. While we keep a close watch on the development of Covid-19 situation and its potential short term impact on the businesses, we remain optimistic on the long term prospect of the automotive industry across the ASEAN Region."
This announcement has been approved by the Board of iCar Asia Limited.
For more information please contact:
Hamish Stone
Chief Executive Officer
iCar Asia Ltd
Mobile: +6017 473 3778
Email: hamish.stone@icarasia.com
Yee Chin Beng
Chief Financial Officer
iCar Asia Ltd
Mobile: +6012 655 8333
Email: chinbeng.yee@icarasia.com
Listed on the Australia Securities Exchange, iCar Asia (ASX: ICQ) owns and operates ASEAN's No.1 network of automotive portals.
Headquartered in Kuala Lumpur, Malaysia, the company is focused on developing and operating leading automotive portals in Malaysia, Indonesia and Thailand. iCar Asia is continuously working to capitalise on its market-leading positions, with its online properties currently reaching approximately 12million car buyers and sellers in the region every month.
iCar Asia Network of websites: