iCar Asia's Q4 cash receipts grows 36%, Thailand is EBITDA and cashflow positive
January 11th, 2019
Thailand operations became EBITDA and cash flow positive in December.
Malaysia records its first quarterly positive EBITDA and net cashflow
Cash receipts from customers in Q4 grew 36% year on year to A$3.0 million
Operational metrics continue to grow strongly with group audience increasing 17% year on year
11 January 2019 – iCar Asia Limited ('iCar Asia', the 'Group' or the 'Company'), ASEAN's number 1 network of automotive portals, has published its Appendix 4C for the final quarter of 2018.
iCar Asia's Thailand operations are EBITDA and cashflow positive from December
In December, iCar Asia's Thailand operation became EBITDA and cashflow positive. This is expected to continue on a quarterly basis and is in line with iCar Asia's original guidance. iCar Asia's Malaysian business also had its first full quarter of positive EBITDA and cashflow in Q4 following its move to breakeven in September. As a result the Group remains on track to reach breakeven by the end of 2019.
Cash receipts for Q4 of A$3.0 million growing at 36% year on year
Cash receipts for Q4 delivered growth of 36% over Q4 last year to slightly above A$3.0 million This represents a fourth consecutive quarterly cash collections of over A$3 million.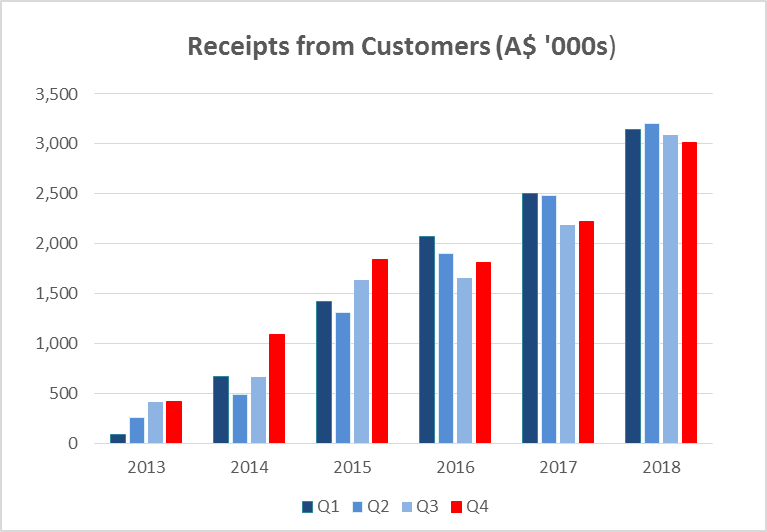 The Auction business, launched in 2H 2018, continues to gather momentum. The gross market value of cars sold through the platform has now reached A$2.3 million since its inception. The process of auction sales is now fully optimized and includes the escrow payments from buyer to seller. As a result cash receipts and payments is impacted by this new business operations as the business holds cash in escrow from the buyer whilst the transaction is completed with the seller. As this is now a significant business, net receipts from the auction business will be separately disclosed from Q4 2018 onwards in quarterly cash results.
Net operating cash improved 19% over Q4 2017
Net cash used in operating activities decreased for a third quarter in a row strongly. It is down 19% over Q4 2017. With iCar Asia's two largest markets now becoming positive cash contributors, with a stable expense base the coming quarters are expected to show continued reductions of net operating cash flow setting the Company up well for 2019.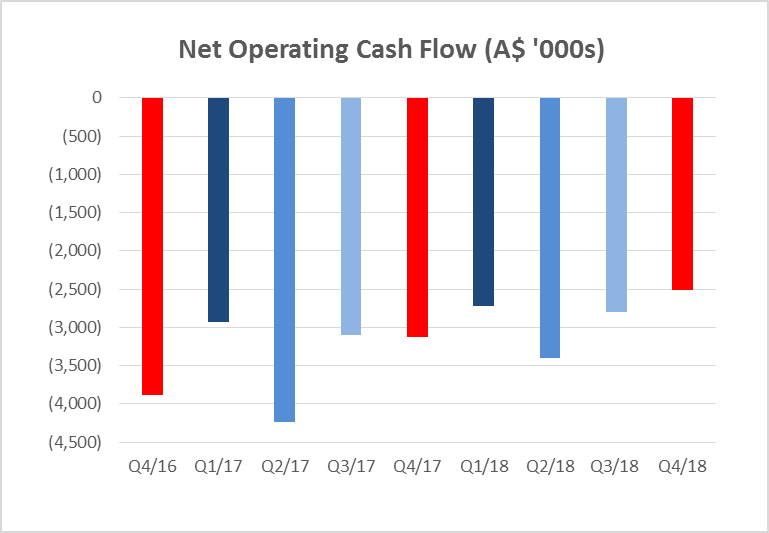 The Company closed Q4 with A$9.5 million in cash and cash equivalents. Whilst the group has access to additional funds of up to A$16.5 million consisting of a A$5 million debt facility and proceeds of share options of A$11.5 million contingent on the prevailing share price on or before the option expiry date, the company is not factoring them into their current capital plans.
iCar Asia continues its operational progress
The company grew its audience by 17% versus the corresponding quarter in 2017 with an average audience of approximately 12 million per month. Overall listings saw a 7% drop to 430,000, driven by initiatives to improve the quality of listings. Lead generation also decreased 7% YoY with a further push towards quality of traffic and leads.
Malaysia continued its strong performance throughout Q4 2018 as it continued to deliver a positive EBITDA margin. On average for Q4 2018 audience saw an increase of 30%, and leads generated were 36% higher than the same period in 2017. The strategy to continue towards listing quality resulting in deletion of low quality or sold listings resulted in a small decrease in listings quarter on quarter for Q4 of 2%. The number of paid accounts improved in Q4 2018 and was up 12% versus Q3 2018 with the continued growth and winback of accounts after the price increases in May 2018.
Thailand became the second country after Malaysia to achieve EBITDA breakeven in December 2018. In addition to this the business remains focused on growing paid accounts which were up by 17% versus the equivalent quarter in 2017. Strong increases were also delivered in listings and audience (14% and 11% respectively) and these results helped ensure that the positive EBITDA result was achievable.
Indonesia took its next steps in its monetization strategy for used car. Used Car subscriptions and restrictions on free listing were introduced in September. The focus since then has been on driving adoption with existing paying accounts to these new subscription products. So far take-up has been good with the average number of paid accounts in Q4 2018 per month remaining flat versus Q3 2018, even at this higher level of monetization. Other operational metrics also showed positive growth versus the equivalent quarter in 2017 with listings increasing by 5%, and audience by 16%.
"iCar Asia had a very strong finish to 2018 with both its Malaysian and Thailand businesses becoming EBITDA positive, and its Indonesia business taking a big step forward in monetization. This momentum is being carried into 2019 and as a Group we are well positioned to achieve breakeven by the end of 2019. We remain committed to our vision of driving the digital transformation in the automotive industry in the ASEAN region and see 2019 as a year to confirm iCar Asia's position in the region as the catalyst for this change," said Hamish Stone, CEO of iCar Asia.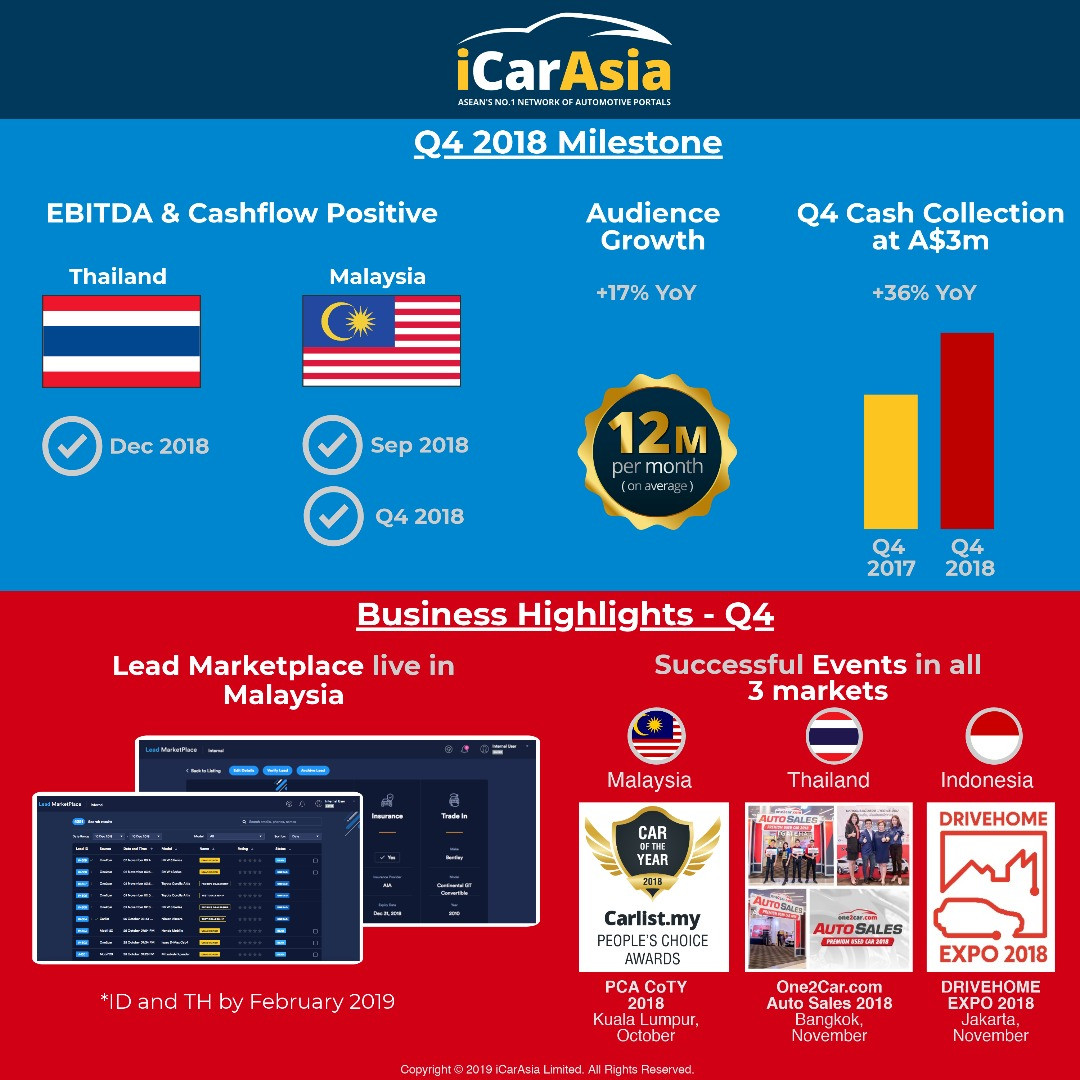 For more information please contact:
Hamish Stone
Chief Executive Officer
iCar Asia Ltd
Mobile: +6017 473 3778
Email: hamish.stone@icarasia.com
Yee Chin Beng
Chief Financial Officer
iCar Asia Ltd
Mobile: +6012 655 8333
Email: chinbeng.yee@icarasia.com
Listed on the Australia Securities Exchange, iCar Asia (ASX: ICQ) owns and operates ASEAN's No.1 network of automotive portals.
Headquartered in Kuala Lumpur, Malaysia, the company is focused on developing and operating leading automotive portals in Malaysia, Indonesia and Thailand. iCar Asia is continuously working to capitalise on its market-leading positions, with its online properties currently reaching approximately 12million car buyers and sellers in the region every month.
iCar Asia Network of websites: