iCar Asia's Q3 revenue grows 51%, Malaysia is EBITDA and cashflow positive
October 8th, 2018
iCar Asia's unaudited revenue in Q3 grew 51% year on year to A$3.0 million

Malaysia operations became EBITDA and cashflow positive in September, and Thailand operations are on track to reach this milestone by the end of 2018

Cash receipts from customers in Q3 grew 46% year on year to A$3.2 million

Operational metrics continued to grow strongly with combined audience increasing 20% year on year to approximately 12 million unique visitors
9 October 2018 – iCar Asia Limited ('iCar Asia', the 'Group' or the 'Company'), owner of ASEAN's number 1 network of automotive portals, has published its Appendix 4C for the third quarter of 2018.
iCar Asia confirms revenue growth of 51% for Q3
The Group recorded A$3.0 million in unaudited revenue for the third quarter, an increase of 51% compared to the same period last year. This was achieved on the back of continued strong growth in core businesses in Used and New Car. For New Car, retimed events and media campaigns were successfully executed in Q3.
iCar Asia's Malaysian operations are EBIDTA and cashflow positive from September
In September, our Malaysia operation became EBITDA and cashflow positive. This is expected to continue on a quarterly basis and is four months earlier than iCar Asia's original guidance. Thailand remains on track to reach EBITDA and cashflow breakeven by the end of 2018 and together these markets will be the key drivers of pushing the Group to breakeven, which is still on track for December 2019.
Cash receipts for Q3 of A$3.2m growing at 46% year on year
Cash receipts for Q3 delivered growth of 46% over Q3 last year to A$3.2 million and net cash used in operating activities reduced to A$2.8 million, down from A$3.4 million compared to the previous quarter. This represents a third consecutive cash collection of over A$3 million.
The Company closed Q3 with access to up to A$28.6m in funds, comprised of A$12.2m in cash and cash equivalents, and up to A$16.4m from a committed debt facility and from the potential exercise of options on issue, due to expire in June 2019.
Continued operational progress and metrics growth
The Group continued its impressive growth in key operating metrics with 20% growth year on year in audience to approximately 12 million. The Group continues to manage the evolution of increasing its Used Car monetisation with the May 2018 pricing increases, and in September 2018 the introduction of subscription pricing in Indonesia. The initial impact has been the loss of lower value accounts which resulted in an overall
decrease of 6% in total account numbers year on year. Despite this reduction in accounts, listings grew year on year by 1%. We expect the number of accounts to return to the growth path during Q4 2018.
Malaysia closed Q3 with an audience of 3.96 million, on average 85% higher than the corresponding quarter last year. We continue to pursue our policy of increasing listing quality on the site by removing low quality
listings and this has resulted in an increase in buyer leads of 23% year on year, despite a reduction in total listing volumes as a result of this policy. The win-back of active accounts after the pricing increases in May 2018 continues.
In Thailand in Q3 we saw continued growth in both dealer accounts which increased by 22% year on year and in listings which increased by 8%. This growth was achieved despite a marginal decrease in audience of 2% year on year as we continue to optimise our digital marketing partners in Thailand with a focus on improving traffic quality.
In Indonesia, continued growth in listings, audience and leads has given more potential for growth. In the month of September, listings reached more than 280,000, up 19% year on year on average for the quarter,
audience grew by 17% compared to Q3 last year and was 3.3 million in September, and leads increased by 13%. With this progress in operational metrics, the next steps in monetising used cars listings was introduced in September with a Subscription Product based on the volume of listings to be placed on the site. Sales ofsubscriptions have performed well in September and we expect to see continued take-up of this product in Q4.
Hamish Stone, CEO of iCar Asia Limited said: "It's fantastic to see the Company achieving record third quarter revenue growth and Malaysia becoming EBITDA and cashflow positive. This gives confidence that our business model works for these markets and that we are building the business in the right way. The next market to reach EBITDA and cashflow breakeven is Thailand and this is on track for the end of 2018. The core business is showing strong growth and this coupled with high levels of audience growth means we are on track for Group profitability."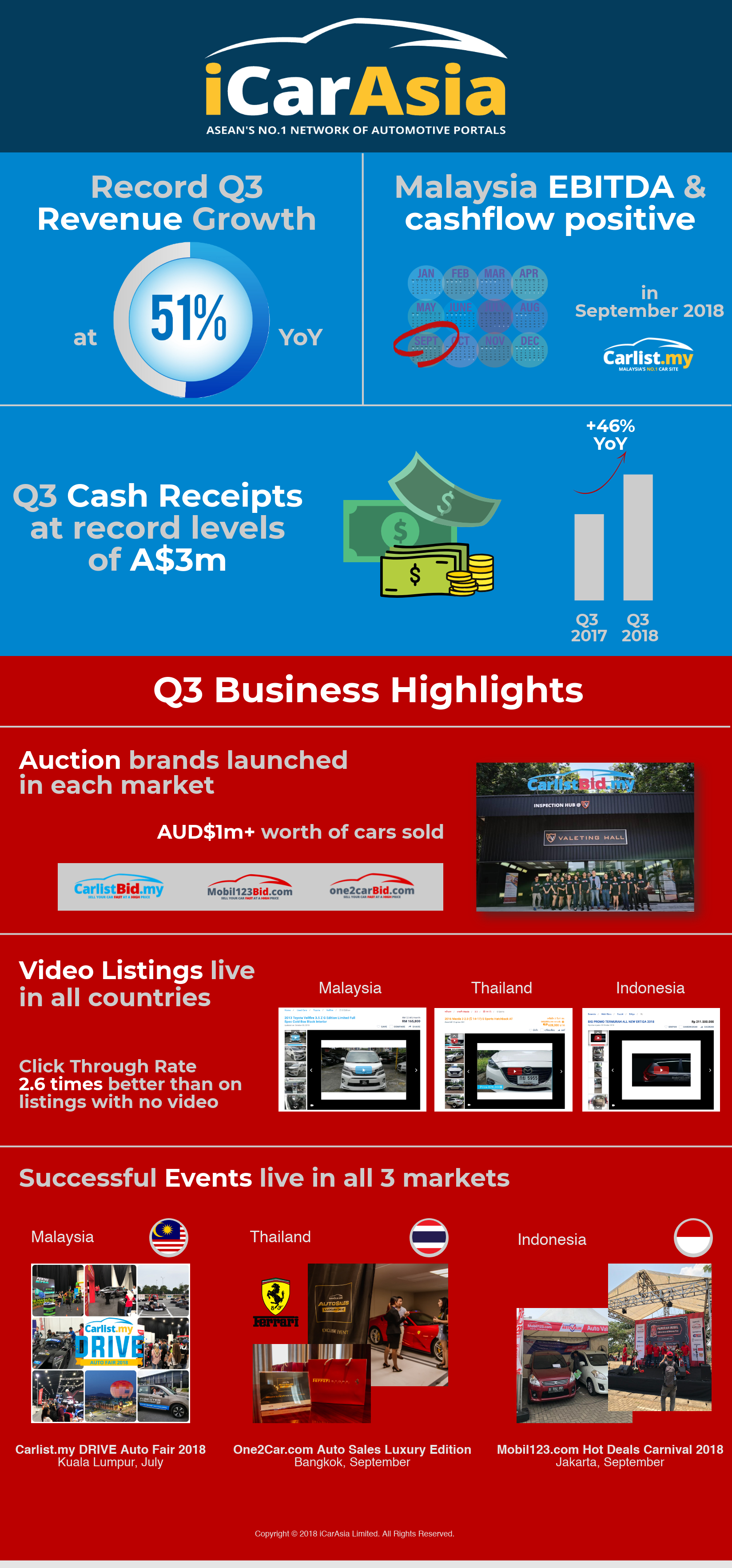 For more information please contact:
Hamish Stone
Chief Executive Officer
iCar Asia Ltd
Mobile: +6017 473 3778
Email: hamish.stone@icarasia.com
Yee Chin Beng
Chief Financial Officer
iCar Asia Ltd
Mobile: +6012 655 8333
Email: chinbeng.yee@icarasia.com
Listed on the Australia Securities Exchange, iCar Asia (ASX: ICQ) owns and operates ASEAN's No.1 network of automotive portals.
Headquartered in Kuala Lumpur, Malaysia, the company is focused on developing and operating leading automotive portals in Malaysia, Indonesia and Thailand. iCar Asia is continuously working to capitalise on its market-leading positions, with its online properties currently reaching approximately 12million car buyers and sellers in the region every month.
iCar Asia Network of websites: