iCar Asia records its best ever quarterly Net Operating Cashflow results despite COVID-19
July 9th, 2020
Net Operating Cash Outflow reduced to A$1.14m beating guidance
Malaysia and Thailand EBITDA and cashflow positive for Q2 2020
Key operational metrics remained strong and improved throughout Q2 2020
H2 2020 outlook looks increasingly positive, with iCar Asia still leading the ASEAN region as the recovery accelerates
3 July 2020 – iCar Asia Limited ('iCar Asia', the 'Group' or the 'Company'), ASEAN's number 1 network of digital automotive marketplaces, has published its Appendix 4C for the second quarter of 2020.
Net Operating Cashflow reached its best ever quarterly result and beat guidance
Total Net Operating Cash Outflow for the second quarter was A$1.14m, improving 36% compared to Q2 2019 and was the lowest ever quarterly cash outflow for the Company. This was 5% ahead of guidance and was the result of the ongoing successful implementation of cash collection initiatives and cost reduction programs across the Group. This cash result included the agreed pay reduction in Q2 2020 for all iCar Asia staff and Board. Payments of all other expenditures were decreased through negotiated discounts and longer payment terms.
Cash receipts were down just 24% versus Q1 2020 at A$3.0m as a result of COVID-19. However, activity and cash receipts improved throughout the quarter with the announcement of the relaxation of movement and business restrictions in iCar Asia's two largest markets by revenue, Malaysia and Thailand in early Q2, followed by Indonesia in mid-June. In addition to that, Malaysia Government had announced sales tax exemption on new cars until end of 2020 that is expected to spur the demand for new cars and the related trade in activities for used cars.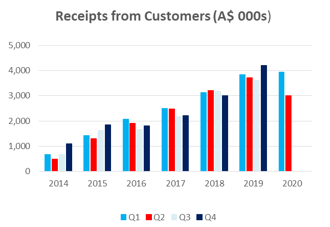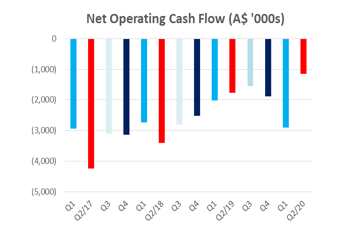 With the measures implemented to maintain activities and manage costs during COVID-19, the Company was able to deliver positive growth in sales in H1 2020, with unaudited revenue expected to be A$6.3m, an increase of 4% compared to H1 2019. With Thailand open throughout Q2 and Malaysia relaxing restrictions in May, both Countries were EBITDA and cashflow positive for Q2 2020 with business slowly getting back to normal coupled with strong cash management.
Operational metrics recovering and effective measures taken to enhance cash position
Dealer metrics remained strong throughout Q2, with Listings and Account volumes showing marginal growth compared to Q2 2019. Audience and Leads recovered throughout Q2, with June monthly averages back to 68% and 86% of Q1 monthly levels respectively. This was achieved despite a reduction of marketing budgets during Q2, with unpaid and mobile app traffic and leads contributing over 88% of the total volumes in each market.
The Company closed the quarter with A$2.2m in cash and cash equivalents and also has access to additional funds in the form of a A$5.0m debt facility that remains undrawn. The terms of this debt facility have now been extended to 30 June 2021 and is subject to the necessary Shareholder approvals. This provides the Company with further flexibility and access to capital. However, the Company does not currently anticipate the need to draw down on the loan based on the current trajectory of cash receipts from customers and current expenditure plans.
With all of iCar Asia's markets now able to operate under reduced business restrictions, the outlook for H2 2020 is looking significantly more positive which will impact the cash flow. The Group will benefit from material cost transformation and reduction program as well as a series of revenue growth initiatives which will be further enhanced in Q3 2020.
On the cost side, 11% of iCar Asia's headcount was reduced effective from July onwards, resulting in a 9% reduction in employment costs. Among this, Board and Senior Employees have agreed to continue to reduce their cash pay for Q3 from between 40% to 25%, depending on seniority. These amounts will be compensated through an Employee Share Plan that will be introduced in Q3 2020. All other employees will return to their previous levels of cash pay. As for Q2, all other operating expenses have been reduced or negotiated down for Q3 and Q4.
With the increases in demand towards the end of Q2, the Company will focus on its core business segments of New Car and Used Car. These will be supplemented by new initiatives inspired through COVID-19 including:
Launching iCar Suite in all markets with an enhanced dealer product. These have been complemented by the launch of digital dealer training programs, supporting our dealers in the further adoption and integration of our products into their operations;
The launch of new transactional formats for used car buyers and dealers: supporting an escrow buyer protection program allowing a buyer to reserve a car online with a payment to iCar Asia, and be guaranteed that car at the Dealership; and
Enhancing the consumer experience, with the launch of user generated used car reviews across the Group; programs to integrate more videos than ever before into listings; and new programs of digital and live content providing a more engaging digital car buying experience.
The Managing Director and CEO of iCar Asia Limited, Mr. Hamish Stone commented:
"With business restrictions lifted and the car industry focusing on the recovery from COVID-19, we are confident that iCar Asia can play a strong part in helping drive momentum back into the ASEAN automotive industry. As we begin Q3, we see demand coming back to our platforms and are partnering with our key customers and dealers to develop strategies to leverage our digital assets to help drive their businesses forward. Having sustained the impacts of COVID-19 and maintained our market leading positions, we are confident that the Group will rebound quickly back to our positive long term trajectory."
This announcement has been approved by the Board of iCar Asia Limited.
For more information please contact:
Hamish Stone
Chief Executive Officer
iCar Asia Ltd
Mobile: +6017 473 3778
Email: hamish.stone@icarasia.com
Yee Chin Beng
Chief Financial Officer
iCar Asia Ltd
Mobile: +6012 655 8333
Email: chinbeng.yee@icarasia.com
Listed on the Australia Securities Exchange, iCar Asia (ASX: ICQ) owns and operates ASEAN's No.1 network of automotive portals.
Headquartered in Kuala Lumpur, Malaysia, the company is focused on developing and operating leading automotive portals in Malaysia, Indonesia and Thailand. iCar Asia is continuously working to capitalise on its market-leading positions, with its online properties currently reaching approximately 12million car buyers and sellers in the region every month.
iCar Asia Network of websites: