iCar Asia records best ever Net Operating Cashflow for the 2nd straight quarter
October 30th, 2020
Net Operating Cash Outflow improved by 32% to A$1.05m despite COVID
Malaysia and Thailand EBITDA positive for Q3 2020
Key operational metrics remain strong and improved through Q3 2020

30 October 2020 – iCar Asia Limited ('iCar Asia', the 'Group' or the 'Company'), ASEAN's number 1 network of digital automotive marketplaces, has published its Appendix 4C for the third quarter of 2020.

Net Operating Cashflow again reached its best ever level amidst challenging Covid-19 environment
Total Net Operating Cash Outflow for the third quarter was A$1.05m, improving 32% compared to Q3 2019. This was the lowest ever quarterly cash outflow for the Company. This followed Q2 2020, where net operating cashflow was to that point at an historical low for the Company.
Cash receipts continued to recover during Q3 and increased by 14% versus Q2 2020 as all 3 countries started to recover at varying rates.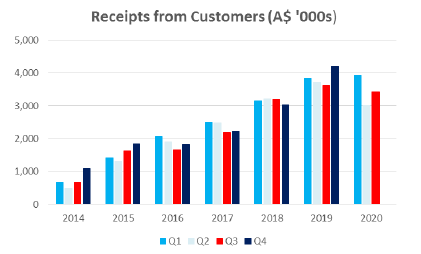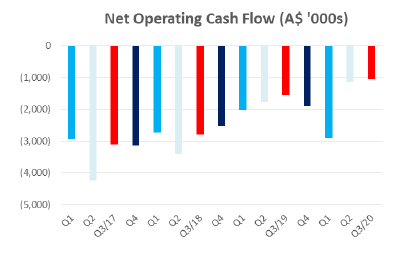 The Company continues to actively implement strategies to manage through the changing environments of the Covid-19 Pandemic. Unaudited revenue for Q3 2020 showed a 33% increase quarter on quarter versus Q2 2020, as markets begin to return to normal operation. Despite the ongoing challenging situation both Malaysia and Thailand were EBITDA positive for Q3 2020.

Operational metrics continue to grow strongly

Dealer metrics remained steady throughout Q3 2020, with Account volumes on par with the strong results achieved in Q2 2020. Audience and Leads recovered throughout Q3 2020 growing of 22% and 29% respectively versus Q2 2020. This was achieved despite continued cost controls resulting in lower marketing budgets during Q2. Unpaid and mobile app traffic and leads continue to improve and now contributing over 90% of the total volumes in each market.

The Company closed the quarter with A$0.9m in cash and cash equivalents, however subsequent to the end of the quarter has drawn down the first A$1.0m of the A$5.0m debt facility provided by its major shareholder, Catcha Group. These funds will be used to accelerate the continued growth of the business.
The Managing Director and CEO of iCar Asia Limited, Mr. Hamish Stone commented:
"The Company has witnessed a strong recovery in Q3 2020 in all 3 operating countries. We will continue to focus on building and evolving the quality of the core proposition of iCar, and partnering with our customers to help drive their businesses recovery. With the addition of funds into the business we are confident we can partner with consumers and key customers to continue to drive this strong recovery from Covid-19. "

This announcement has been approved by the Board of iCar Asia Limited.
For more information please contact:
Hamish Stone
Chief Executive Officer
iCar Asia Ltd
Mobile: +6017 473 3778
Email: hamish.stone@icarasia.com
Yee Chin Beng
Chief Financial Officer
iCar Asia Ltd
Mobile: +6012 655 8333
Email: chinbeng.yee@icarasia.com
Listed on the Australia Securities Exchange, iCar Asia (ASX: ICQ) owns and operates ASEAN's No.1 network of automotive portals.
Headquartered in Kuala Lumpur, Malaysia, the company is focused on developing and operating leading automotive portals in Malaysia, Indonesia and Thailand. iCar Asia is continuously working to capitalise on its market-leading positions, with its online properties currently reaching approximately 12million car buyers and sellers in the region every month.
iCar Asia Network of websites: