iCar Asia Limited progressing towards profitability with strong 1H 2019 results
August 22nd, 2019
22 August 2019- iCar Asia Limited ('iCar Asia' or the 'Company'), owner of ASEAN's number 1 network of automotive portals today released its Financial Report for the first half year of 2019.

Financial Performance

Revenue growing by 20%, with improvement across all countries
The Group delivered a strong performance underpinned by solid revenue growth in the first half of 2019. The Group generated $6.01m in revenue (first half of 2018: $5.01m). This represents year on year growth of 20% with all three countries of operation registering positive growth in the period.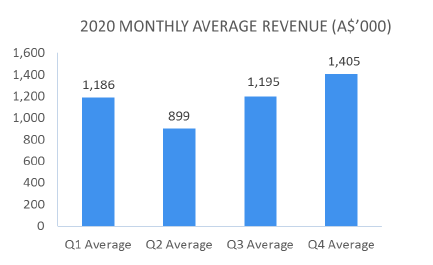 EBITDA margin continues to improve with the optimization of spending and cost management measures

Operating expenses (excluding depreciation and amortisation) decreased by 9% in the first half of 2019 to $9.71m (first half 2018: $10.74m). This was achieved by effective cost management via optimisation of marketing expenses, lower employment and administrative expenses and reclassification of lease rental to depreciation and amortisation expenses following the adoption of new accounting standard AASB 16 Leases.

The Group incurred an EBITDA loss for the half year of $3.71m (first half 2018: $5.73m). The EBITDA losses substantially reduced by $2.02m, a 35% improvement on the prior corresponding period as a result of both higher revenue and lower expenses. Excluding non-cash expenses, Adjusted EBITDA loss for the half year of $2.77m (first half 2018: $5.11m) showing EBITDA losses reduced by $2.34m, a 46% improvement on the prior corresponding period.
Balance Sheet strengthened through the receipt of $7.67m in funds from the exercising of options

The Company closed 1H 2019 with $12.9m in cash and cash equivalents after receiving $7.67m from the exercise of options issued under the terms detailed in 2017 Rights Issue Prospectus, dated 15 November 2017. The Company also has access to additional funds in the form of a $5.0m debt facility which remains undrawn.
Operating Performance Highlights

iCar Asia continues to be the dominate online automotive marketplace in all its markets

The Group maintained its leadership position in all 3 markets and reported commendable operating metrics despite business interruptions caused by general elections in Thailand and Indonesia.

Malaysia continued to be EBITDA and cashflow positive in the first half of 2019. June 2019 audience saw an increase of 7% versus June 2018. The strategy to focus on listing quality where low quality or sold listings are removed from the marketplace resulted in a 16% decrease year on year in listings for June 2019, though total leads generated remained steady.
Thailand too continued to be EBITDA and cashflow positive in the first half of 2019. Account volumes remained at the same levels as Q4 2018 while listings showed an increase of 18% year on year in June 2019. Audience and Leads followed the same trends as seen in Q1 2019, and decreased (37% and 23% respectively), however these were both subject to the one-off impact of the general election in late March/early April and the period leading up to the coronation of the King of Thailand in early May.
Indonesia has further progressed its monetization in the used car segment, helping to decrease its EBITDA loss by more than half. Audience and leads marginally increased by 1% and 3% respectively year on year despite being impacted by the general election in mid-April and subsequent brief period of instability following the official announcement of election results in early May and also the Eid celebrations in June. Listings decreased 6% year on year in line with expectations as free listings continue to be restricted.
Outlook for 2H 2019

2H 2019 will see an acceleration of the business across the areas of both New Car and Used Car. With one off factors of elections and coronations completed, the expectations is to see increases in new and used car sales and activity in 2H 2019. New Car revenue growth will increase off the back of increased media activity from new car launches, a ramping up of our new car dealer product and with a further driver of growth coming from scheduled car events across each of our markets. Used car dealers are also expected to increase activity across our core business, which will drive growth in our new auction business as we expand our footprint and the volume of used car dealers actively bidding in our auctions.
CEO of iCar Asia Limited, Mr. Hamish Stone commented: "iCar Asia continued to make significant progress in the first half of 2019 towards group run rate EBITDA breakeven. Malaysia and Thailand continued to record positive EBITDA while Indonesia more than halved its EBITDA losses year on year.
With strong performances across all 3 markets and flat corporate cost, the Company is carrying great momentum into the second half of 2019 where it is expected to strengthen its leadership position across the largest automotive markets in the ASEAN Region."
For more information please contact:
Hamish Stone
Chief Executive Officer
iCar Asia Ltd
Mobile: +6017 473 3778
Email: hamish.stone@icarasia.com
Yee Chin Beng
Chief Financial Officer
iCar Asia Ltd
Mobile: +6012 655 8333
Email: chinbeng.yee@icarasia.com
Listed on the Australia Securities Exchange, iCar Asia (ASX: ICQ) owns and operates ASEAN's No.1 network of automotive portals.
Headquartered in Kuala Lumpur, Malaysia, the company is focused on developing and operating leading automotive portals in Malaysia, Indonesia and Thailand. iCar Asia is continuously working to capitalise on its market-leading positions, with its online properties currently reaching approximately 12million car buyers and sellers in the region every month.
iCar Asia Network of websites: