COVID-19 Recovery in Full Swing – Return to Growth
August 28th, 2020
28 August 2020 - iCar Asia Limited ('iCar Asia' or the 'Company'), owner of ASEAN's number 1 network of automotive portals today released its Financial Report for the first half year of 2020.
Financial Performance
Strong recovery post COVID-19 lockdown period in Southeast Asia

Whilst Q2 2020 revenue was affected by lockdowns in place in all of the Group's operating markets, July has shown a strong recovery, with unaudited July 2020 revenue up 40% vs the Q2 monthly average revenue, and up 17% year on year. This follows a rebound in new car sales, with July 2020 new car sales up 155% in Malaysia, 38% in Thailand and 215% in Indonesia as compared to the Q2 2020 monthly average.
Despite 3 months of varying degrees of movement control and forced business closure in all markets, the Group still generated A$6.26m in revenue in the first half of 2020 (first half of 2019: A$6.01m), representing 4% revenue growth compared to the prior corresponding period.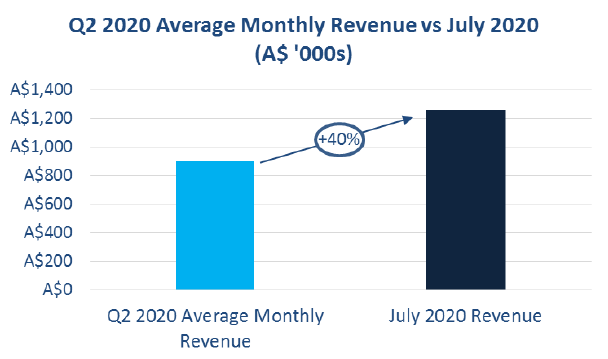 Operating expenses managed tightly with effective cost controls

Operating expenses (excluding depreciation and amortisation) increased by 7% in the first half of 2020 to A$10.3m (first half of 2019: A$9.7m) solely due to inclusion of Carmudi's operating expenses of A$1.3m in the first half of 2020. This reduction in core business expenses was achieved through both general business efficiency and cost management measures put in place to mitigate the impact of Covid-19.
The Group incurred an EBITDA loss for the half year of A$4.09m (first half of 2019: A$3.69m), as a result of the inclusion of Carmudi expenses and lower-than-expected revenue growth due to Covid-19 disruptions. Despite these disruptions, the Group's largest two revenue markets, Malaysia and Thailand, remained both EBITDA and Cashflow positive for the first half of the year.
Strong cash management supported by available credit facility that remains undrawn

The Company closed first half of 2020 with A$2.2m in cash and cash equivalents after recording its lowest ever quarterly net operating cash outflow in Q2 of 2020 despite challenges posed by Covid-19. The Company also has access to additional funds in the form of a A$5.0m debt facility which remains undrawn.
Operating Performance Highlights

Key operating metrics were impacted in Q2 2020 due to Covid-19 business disruptions though are showing strong recovery. Audience and Leads recovered throughout Q2 2020, with June monthly averages returning to 68% and 86% of Q1 2020 monthly levels respectively. This was achieved despite a reduction in marketing budgets during Q2 2020, with unpaid and mobile app traffic and leads contributing over 88% of the total volumes in each market.
Dealer metrics remained strong throughout Q2 2020, with listings and account volumes still managing to deliver growth compared to Q2 2019.
On path of recovery from Covid 19 in second half of 2020 and beyond

CEO of iCar Asia Limited, Mr. Hamish Stone commented: "First half of 2020 has been unprecedented in terms of the magnitude of business interruption caused by business restrictions in Malaysia, Thailand and Indonesia. These business restrictions has since been gradually relaxed and we have seen an excellent rebound in the business, with July returning us to absolute growth. We expect the situation to continue to improve and we remain confident on the long term prospects of being the partner to the digitization of the ASEAN Automotive Industry. "
This announcement has been approved by the Board of iCar Asia Limited.
For more information please contact:
Hamish Stone
Chief Executive Officer
iCar Asia Ltd
Mobile: +6017 473 3778
Email: hamish.stone@icarasia.com
Yee Chin Beng
Chief Financial Officer
iCar Asia Ltd
Mobile: +6012 655 8333
Email: chinbeng.yee@icarasia.com
Listed on the Australia Securities Exchange, iCar Asia (ASX: ICQ) owns and operates ASEAN's No.1 network of automotive portals.
Headquartered in Kuala Lumpur, Malaysia, the company is focused on developing and operating leading automotive portals in Malaysia, Indonesia and Thailand. iCar Asia is continuously working to capitalise on its market-leading positions, with its online properties currently reaching approximately 12million car buyers and sellers in the region every month.
iCar Asia Network of websites: